Youth Opportunity Connect Winter Program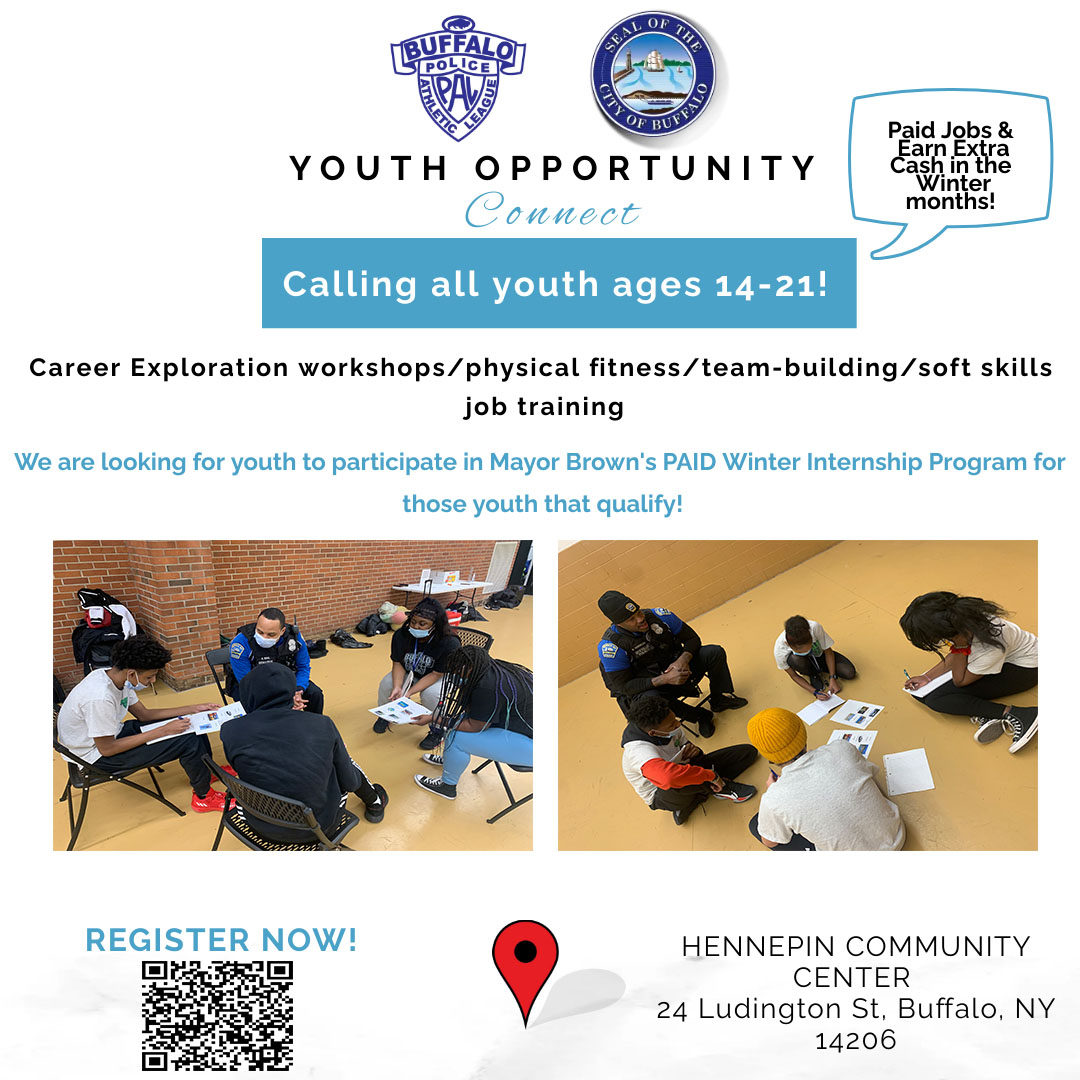 ELIGIBILITY REQUIREMENTS:
1. You must have participated in MSIP in the summer of 2022
2. You must apply for the winter session by filling out this form. https://www.surveymonkey.com/r/MSIPWINTER We will send you a confirmation email to confirm your acceptance ON Friday January 13th. (Please do not reach out to us before this date)
You must attend the mandatory orientation on Tuesday January 17th at 5:30pm at the Hennepin Center, located at 24 Ludington Ave, Buffalo NY 14206
4. You must be able to work the 6-week program beginning Tuesday January 17th through Saturday February 25th
5. You must provide your current report card (bring to orientation) if you are in school reflecting an 82.0 grade average or higher.
6. You must provide your current and updated working papers by Tuesday January 17th if you are ages 14-17 years old.
What is the Youth Opportunity Connect Program?
Youth Opportunity Connect helps Middle School & Highschool youth discover their full potential as productive members in our community while preparing them to become eligible for Mayor Brown's Summer Internship program for High School students. YOCP also promotes personal growth, self-exploration, and independence in an environment that is safe and supportive. YOCP participants will also explore career and educational opportunities along with working in a small group setting that helps them discover self-awareness and improve the development of their communication, emotional, and social skills.
Who can Enroll in this program?
This is a FREE program, open to any youth attending a Buffalo Public School or Charter School, who resides in the City of Buffalo. Youth must be 14 – 21 years old.
When does the program take place?
The program begins on Tuesday January 14th and operated for 6-weeks until Saturday February 25th 2023
Where does the Program take place?
The program will be in person Tuesdays & Thursdays 5:30-7:30 pm and Saturdays 10:00-2:00 pm at the Hennepin Community Center, located at 24 Ludington Street, Buffalo, NY 14206.
Why choose you enroll your child(ren) on the YOC program?
Buffalo PAL will provide Work Readiness Supports, the YOC program will build a youth's capacity to move towards gainful employment. This will include resume writing, additional job seeking opportunities, mock interviewing, and understanding employer and workplace expectations.
Buffalo PAL will work with youth on developing positive work habits, behaviors, attitudes and gaining the necessary soft skills to be successful in the job market. Buffalo PAL will also work in partnership with local banks and credit unions to support saving and promote good spending habits.
Youth will have the opportunity to have career exploration through workshops and educational field trips/tours to various businesses around the WNY area. It is very important to expose our youth to careers that may interest them and influence their educational path.
*All programs will be delivered under the New York State department of Health COVID-19 safety guidelines approved by the Erie County Department of Health*