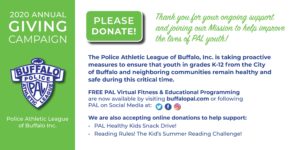 The Police Athletic League of Buffalo, Inc. is proud to celebrate over sixty years of providing quality youth enrichment programming at safe city-wide recreation facilities with nurturing mentors in partnership with local law enforcement. The PAL Annual Giving Campaign is in full swing this Fall! Buffalo PAL is asking sponsors and donors to please make a donation at buffalopal.com/fundraising to help serve thousands of youth (ages 5-21) with programming comprised of:
Literacy & Homework Assistance
Playstreets Fitness Program
Cooking
Snack & Meal Distribution
Health & Wellness Activities
Youth Mentoring & Anti-Bullying initiatives
PAL Sports that incorporate social-distancing
In order to provide PAL youth enrichment programming for free or very low cost to children and young adults who come from diverse socioeconomic backgrounds, we hope you will please consider supporting our organization's fundraising efforts by making a donation to the 2020 PAL Fall Annual Fund Drive.
Upon receipt of your donation, we will promptly mail you a PAL Badge Decal that can be proudly displayed on the windshield of your vehicle. For a donation of $50.00 or greater, we will also send you an iconic PAL T-Shirt!
Thank you very much for your consideration and ongoing support. We appreciate your generosity and commitment to helping PAL youth learn about the importance of exhibiting Pride . Attitude . Leadership!
Sincerely,
Chief Dennis Richards
PAL Board President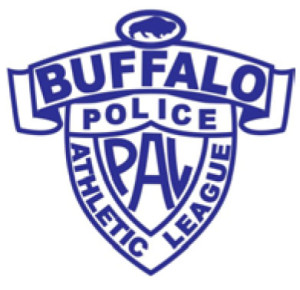 To download the form below, please click on the "annual fund card.pdf" file below. Print the card, fill it out and return with your check to:
PAL, 65 Niagara Square, 21st Floor Buffalo, NY 14202
You may also donate by clicking here and completing the form on the page or using the PayPal button to the left