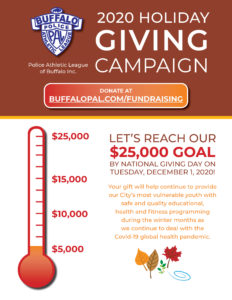 The Police Athletic League of Buffalo, Inc. continues to provide thousands of youth in grades K-12, who are living at or below poverty level in the City of Buffalo and neighboring communities, with quality educational, health, and outdoor fall/winter fitness programming while schools and City-wide recreation program sites remain closed due to the COVID- 19 global health pandemic.
Your support is needed now more than ever. We are hopeful that you will join our critical mission to help improve the lives of PAL youth by making a generous tax-deductible contribution to the 2020 PAL Holiday Giving Campaign!
Every donor who gives $50.00 or greater will receive an iconic PAL Badge Decal for their Vehicle and a PAL T-Shirt in the mail, accompanied by a thank you letter for their charitable donation.
The new CARES Act for Charitable Giving will also apply to any donation you make to PAL in the year 2020! Donors who itemize their taxes and make a donation to PAL in the amount of $300 or greater will be eligible for a charitable deduction of 100% of their gross income in the year 2020.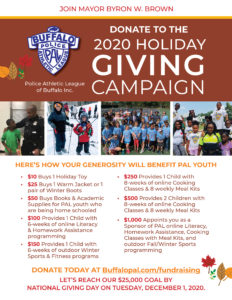 If you have any questions about making an online donation, please email: policeathleticleague@city-buffalo.com
If you would like to make a donation by check, please make it payable to, and mail it to:
Police Athletic League of Buffalo, Inc.
65 Niagara Square, 21st Floor
Buffalo, NY 14202
DONATE OR PLEDGE NOW!
Buffalo PAL Board of Directors
Nekia Kemp, Executive Director
PRIDE • ATTITUDE • LEADERSHIP