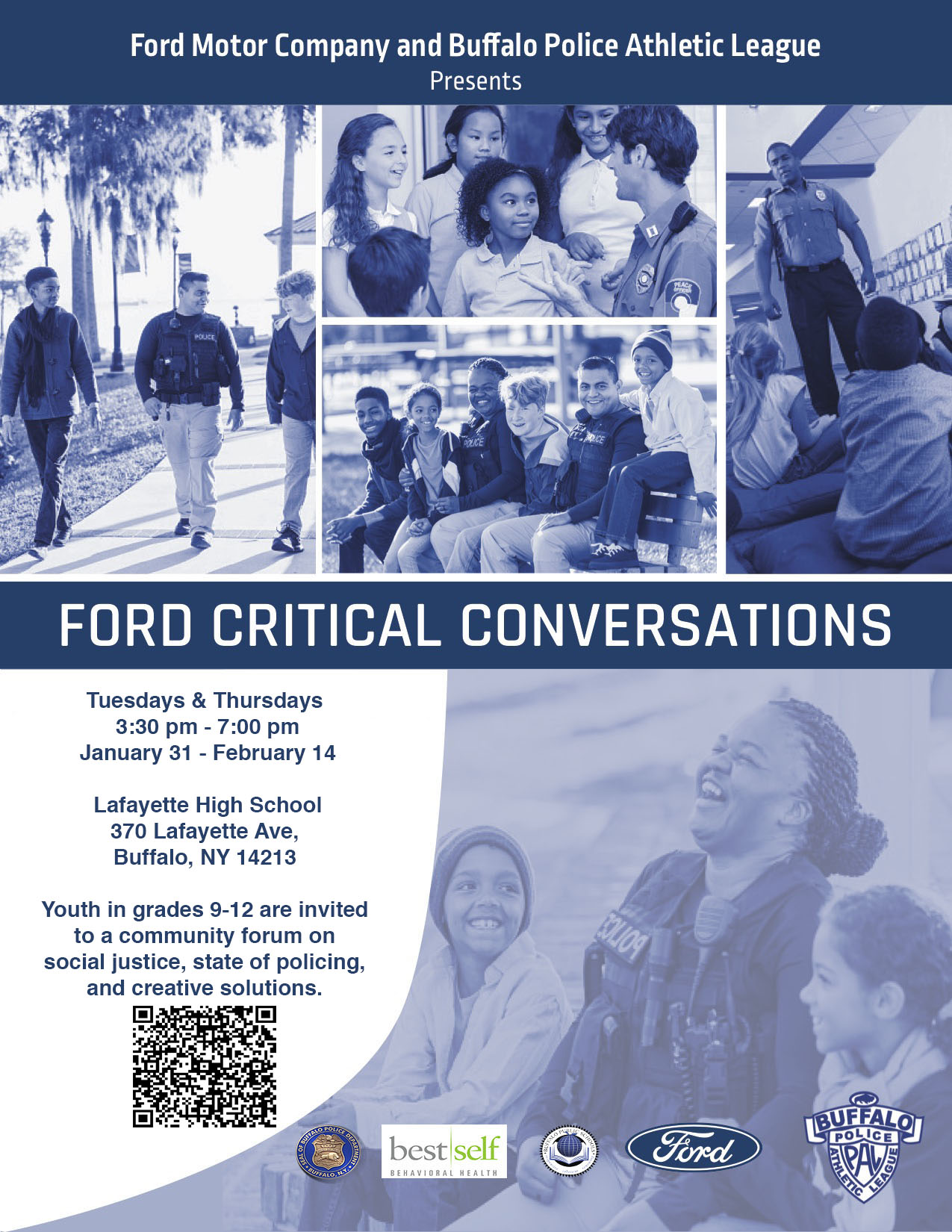 Detroit Police Athletic League to Kick-off National
Critical Conversations Program Tour in Partnership with
Police Athletic League of Buffalo
"As part of Ford's commitment to building a better world, we invest in organizations and
partnerships that empower people and communities to work together to build strong
relationships and mutual trust. Through our partnership with Detroit PAL, we have developed a
truly unique, grassroots approach to helping improve relationships between youth and police,
"said Mary Culler, president, Ford Motor Company Fund. "These important conversations help
break down barriers and build trust, which can result in the development of collaborative
strategies in communities moving forward. We look forward to building on the success we've
seen here in Detroit by expanding the program to Buffalo and additional cities across the
country."
Detroit PAL will host its third session of Critical Conversation later this month, and in
September, Houston PAL announced plans to launch the program in spring of 2023.
Geared toward youth in grades 9-12, the Critical Conversations program features workshops
and sessions focused on tackling difficult topics in a safe space like police brutality and
harassment. The six-week curriculum also includes guided talks to gauge the community's
perspectives of police as well as social and cultural norms. During each weekly gathering note
takers also capture dialogue between youth and police, and the sessions are opened up to the
community to observe, witness and learn from the program. Implementation of the Critical
Conversations program by the Police Athletic League of Buffalo, Inc. will help build upon the
momentum created in other cities toward building trust and creating solutions in the community.
Mayor Brown stated, "Today marks another great step forward in putting Buffalo children first.
Critical Conversations builds on our many other initiatives created to further improve trust
between our youth and police, while working to change lives and ensure no young person is left
behind. I thank Ford Motor Company and Detroit PAL for reaching out to us about this impactful
program so that we can reach even more young people in underserved neighborhoods in
Buffalo. We're all in this together, and this is about giving our young people new ways to think
about law enforcement and keeping our city safe."
Pre and post-program surveys are also used to measure the youth's feelings of safety around
cops both before and after their participation in the Critical Conversations program. Their input
will also be sought to help brainstorm ways to keep the enthusiasm and learnings going long
after the formal sessions have ended.
"The Police Athletic League of Buffalo is extremely grateful to Ford Motor Company and our
partners for supporting young people in the City of Buffalo," said Nekia Kemp, Executive
Director for Buffalo PAL. "Critical Conversations is a unique opportunity for youth to share their
opinions and ideas about police-to-community relationships. Our local law enforcement is a
strategic partner in the development of Buffalo PAL youth programs. This opportunity will allow
even greater collaboration to enhance our programs, benefiting the Buffalo, NY community."
Organizers have already seen how the goodwill of the Critical Conversations program can spill
over into neighborhoods as young participants often share with their friends and families what
they are learning about police, and as police learn new ways to engage with youth.
For more than 70 years, the Ford Stamping Plant has been a main stay of the Buffalo
community. After the shooting at Tops grocery store earlier this year, Ford Motor Company
Fund, the philanthropic arm of Ford, donated $200,000 to the community, joining nearly 40
other foundations and corporations participating in the Buffalo Together Response Fund. The
funds go to local food banks, family service agencies, grief and counseling services and other
ongoing community support to help the citizens of Buffalo.

About Ford Motor Company
Ford Motor Company (NYSE: F) is a global company based in Dearborn, Michigan, that is
committed to helping build a better world, where every person is free to move and pursue their
dreams. The company's Ford+ plan for growth and value creation combines existing strengths,
new capabilities and always-on relationships with customers to enrich experiences for and
deepen the loyalty of those customers. Ford develops and delivers innovative, must-have Ford
trucks, sport utility vehicles, commercial vans and cars and Lincoln luxury vehicles, as well as
connected services. Additionally, Ford is establishing leadership positions in mobility solutions,
including self-driving technology, and provides financial services through Ford Motor Credit
Company. Ford employs about 182,000 people worldwide. More information about the
company, its products and Ford Credit is available at corporate.ford.com.
About Police Athletic League of Buffalo
Police Athletic League of Buffalo, Inc., is a 501 (c) (3) not-for-profit organization whose mission
is to provide quality youth enrichment programming at little or no cost to families who reside in
the City of Buffalo (New York) and neighboring communities. For more than sixty years, the
Police Athletic League of Buffalo, Inc. has served children in the Greater Buffalo Niagara Region
with a diverse array of athletic, educational, and cultural programs that take place throughout
the year in safe environments with nurturing mentors in partnership with local law enforcement.
Click Here to View Media Links:
http://https://www.wivb.com/news/local-news/buffalo/partnership-helps-students-connect-with-law-enforcement/
https://www.wbfo.org/2022/2022-10-04/buffalo-whats-nextlessons-from-charleston-south-carolina-and-learning-from-police-in-buffalo<https://clicktime.symantec.com/15tpJ8hAWk59wVgZmM9md?h=CdihM25_VX2S7_zNIDW4t6DojXMXueCS14W3daZwg0s=&u=https://www.wbfo.org/2022/2022-10-04/buffalo-whats-nextlessons-from-charleston-south-carolina-and-learning-from-police-in-buffalo>