The Police Athletic League of Buffalo, Inc. and the PAL Board of Directors would like to thank all of the community partners who were instrumental in making the PAL Youth Opportunity Connect Program a success during the summer of 2020.

We are grateful to have dedicated community partners who are committed to making a positive difference in the lives of PAL youth!

We look forward to providing next summer's Youth Opportunity Connect Program to youth in grades 7, 8, and 9 who can discover their full potential as productive members of our society while also promoting personal growth, self-exploration, and independence in an environment that is safe and supportive.

YOCP participants can also explore career and educational opportunities along with working in a small group setting that helps them discover self-awareness and improve the development of their communication, emotional, and social skills.
Casandra is an experienced leadership coach with over 30 years of experience in teaching and leading. She supports executive level educational leaders in developing the complex complement of skills needed to successfully manage the massive responsibilities, high level of accountability and growing level of diversity within urban, suburban and rural schools and districts. Casandra was extensively trained on Cognitive and Culturally Proficient Coaching and utilizes these models and other adult learning theory models to engage the leaders she supports.

Casandra specializes in supporting leaders and leadership teams with the most serious accountability status. She assists the schools in developing effective school and district improvement plans through the evaluation of qualitative and quantitative data so that every child in every class is positioned to receive a world class education. Under her leadership the bulk of her schools have improved in accountability status from Receivership to Good Standing.

Casandra considers her work in education more than just a professional obligation; as a Black Feminist her work is a ministry that ensures all children are educated in a warm, nurturing and intellectually stimulating environment that embraces cultural differences. As a Black single mother of two children she understands how difficult it can be to navigate the school system and works hard to help other families. Casandra wants every child to feel they have someone who advocates for them. She is an ardent educator, a proud member of Zeta Phi Beta Sorority Incorporated, and during her discretionary time, works with at-risk students through the Omega Mentoring Program. Casandra works closely with others to ensure the students in the Omega Mentoring Program are connected to caring adults who will help them navigate the school system, that often marginalizes them, develop self-efficacy and leadership skills that will help them become successful in school and beyond.

In addition to working with sitting administrators, Ms. Wright works alongside Buffalo Public Schools Staff, University at Buffalo Leaders and New York City Leadership Academy Consultants to support the development of a Principal Preparation Program – Buffalo Aspiring Leaders Academy (BALA). BALA is an innovative administrative certification program supported by NYSED and the Wallace Foundation. Ms. Wright is currently finishing her doctoral studies at the University at Buffalo and will graduate in May 2020. Her dissertation focuses on the development of effective principal preparation programs.

In summary, Casandra Wright is a courageous, respected, trusted former principal in Buffalo Public Schools and is a high value asset to the district in her role as Lead Elementary Associate Superintendent for School Leadership. Ms. Wright brings tremendous passion, cultural sensitivity, and strength to the work, seeking rather than avoiding working with the most challenging schools and building level teams. She is a highly regarded educator in the Buffalo Public Schools system and consistently displays great capacity for leadership.
In 2019, Sady Fischer's first year on the job, she assigned some key reading material to the CEO and executive team—Waking up White: and Finding Myself in the Story of Race by Debby Irving; introduced I.D.E.A. Mindset, which addresses issues related to inclusion, diversity, equity, and access, including acknowledging bias and privilege, and becoming intentional in thought and action. She also partnered with the chief information officer to share DEI messages.

Fischer enhanced the company's Diversity & Inclusion Internship Program; conducted outreach at colleges, universities, and association groups; and rolled out unconscious bias training. She also sponsored programs focused on leadership, transferrable skills, and civic engagement. DEI training became a mandatory part of onboarding for all employees.

Fischer's goals for 2020 include creating and rolling out an inclusion survey to measure DEI progress, increasing applicant pools of underrepresented groups and diverse representation at all levels, and increasing a company-wide understanding of disability and LGBTQ+ inclusion, and racial equity.
Patti Green loves life and lives with a joie de vivre! Professionally, she's a successful entrepreneur, holistic lifestyle coach, speaker and upcoming tv host. She earned her B.S. degree from Northeastern University in Boston, Massachusetts and her C.H.C., AADP from the Institute for Integrative Nutrition through SUNY at Purchase, NY. Since then, her career and entrepreneurial adventures have centered around new product development, food, beauty, health and wellness.

Early on, Patti's entrepreneurial skills led her to create a line of children's consumer products which landed on the shelves at Macy's, Barney's New York, Neiman Marcus, Starbuck's, Wegman's and others. These products were well-received on a national scale. Bon Appetit, New York Post, Buffalo News, Chicago Tribune, Dallas Morning News, The Television Food Network, Emeril Live, Christian Parenting and other media outlets wrote about Patti's success, her products and programs. In addition to her product development, she opened a children's cooking school in Western New York and conducted hundreds of healthy cooking classes and workshops nationwide.

She hosted the noon cooking segment at her local NBC/Channel 2 – Buffalo New York.

Upon completing her certification in holistic health, she began her health coaching business motivating, guiding and inspiring individuals to lead healthier happier lives. She conducted speaking engagements and led workshops for Blue Cross Blue Shield, the Child Resource Center, Boys & Girls Clubs, Girl Scouts of America WNY, Buffalo Public Schools, Buffalo Niagara Dental Association, Make A Wish and more
Kendra Brim is a native of Buffalo, NY. Kendra attended Nardin Academy (2007), before receiving a four-year Division I Scholarship to Colgate University where she majored in Political Science and minored in African American Studies. She received her MBA from University at Buffalo (2019). Amidst Buffalo's renaissance, Kendra enthusiastically moved back to the area after college, fueled to make a difference in the community. Eager to help advance opportunities for underprivileged minorities— an area that she felt was being left behind—Kendra purposefully became involved with The Buffalo Urban League Young Professionals, National Black MBA Association Inc., and the William-Emslie YMCA, a high-need branch in the City of Buffalo.

Kendra is a Project Manager at BlueCross BlueShield of Western New York. She served two years as chapter president of the Buffalo Urban League Young Professionals, a unique entity of the Buffalo Urban League that empowers individuals ages 21 to 40. Currently, Kendra is the National Programs Chair for the National Urban League Young Professionals. Kendra also serves as a board member for the Buffalo Urban League, William-Emslie YMCA (Annual Campaign Co-Chair), Teach for America Executive Leadership Council Member, United Way of Erie County Board Member, and Nardin Academy Alumni Council Member.

Kendra's honors and awards includes Mark Pearce Heart of the Community Award (2019), Black Achievers Award (2019), NAACP Buffalo Branch, Daniel R. Acker Community Service Award (2019), Buffalo Business First 30 under 30 (2019), Buffalo Niagara 360 Professional (2019), Commitment to Service Award from Mayor Byron Brown (2019), Nardin Academy Sports Hall of Fame (2018), Women Touching the World (2018), Buffalo Urban League Trailblazer Award (2017), and 30 Under 30 Changemakers Award (2016). In addition, she is a National Urban League Washington Bureau Advocacy Program and Certificate fellow. In her spare time, Kendra enjoys watching movies, spending time with family, and traveling.
Cassondra Argeros is a teaching artist for Young Audiences of Western New York. She has a Bachelor of Fine Arts from the School for American Crafts, Rochester Institute of Technology, Rochester NY as well as a Master of Fine Arts in Glass Sculpture from Tyler School of Art and Architecture, Temple University, Philadelphia PA. Her work has been shown locally and nationally, most notably at The New York State Museum in Albany. In 2007 Argeros co-founded Urban Canvas Project of Buffalo, a community arts organization that collaborates with other non-profits and their communities to beautify local spaces. Beyond creating and teaching art, Argeros enjoys being an usher for the Buffalo Sabres at Key Bank Center and the Buffalo Bisons at Sahlen Field.
Shatorah Donovan is an attorney and Chief Diversity Officer for Mayor Brown's Office of Diversity, Opportunity, and Inclusion. As an attorney, Ms. Donovan practiced immigration law from a holistic perspective. She assisted business owners and professionals attain status in the United States, but most dear to her heart was helping individuals and families from around the world fight for their most basic human right- the right to live without fear and persecution. As Chief Diversity Officer for the City of Buffalo she is focused on creating and enhancing opportunities for historically disadvantaged populations. She does this through economic development, education, and policy implementation. She believes that Buffalo's prosperity will be sustained through abundant inclusion.
Wil R. Green II is the Director of school and community partnerships within Canisius College's School of Education and Human Services. His responsibilities include cultivating and sustaining school and community partnerships, and overseeing student teaching and field placements with the college's teacher education programs. He also contributes significantly to the college's Center for Urban Education (CUE) and New Buffalo Institute (NBI), both of which facilitate collaborations within the college and the local community in an effort to work in solidarity with partners on challenges and opportunities.

Green, a life-long resident of Buffalo NY, graduated from Community School #53 and Hutch-Tech high school. He also earned a Bachelor of Arts degree in English and secondary education from Alfred University, and a Master's degree in educational leadership from the University of Phoenix.
Hailing from Tucson, Arizona by way of Tallahassee, Florida, I am living a dream, being a multi-media personality and DJ! Though it was by accident, I found my passion in radio and DJing, after moving from Tucson to Tallahassee to attend Florida A&M University. I was elected to student government, where I met Lady J, who was also in student government and a radio personality at the college radio station. In 1997, Lady J invited me, a freshman to play a small role on her radio show, that later ended, but it was just the beginning of my journey in radio. Prior to moving to Buffalo, I most recently served as morning show co-host on WPEG in Charlotte, NC for 5 years. I also spent 2 years as a entertainment report co-host on television station WBTV! I am currently entertaining and informing the Queen City of WNY with the "2 To 6 Takeover" weekdays from 2-6 pm on the oldest urban station in the country, The People's Station, 93.7 WBLK!
Duncan Kirkwood is speaker, a trainer, an author, a social justice and education advocate, an organizer and a Veteran. He have spent his professional life working to empower young people, parents, organizations and communities. His mission is to make sure everyone who he come across can become the most resilient and best version of themselves.

He is blessed to be a husband and father of three. It is his passion to help individuals push through their perceived limits to take control of their lives.

Education:

BA Communications Alabama State University

MPA Ashford University

US Army National Guard Master Resilience Trainer
Cedric R. Holloway was born on September 24, 1965 to the proud parents of the late Johnnie B. Wiley and Lovenia Holloway. Cedric was raised in the Queen City of Buffalo, New York. Cedric is a product of the Buffalo Public Schools system. Shortly after graduating with from Lafayette High School, Cedric applied to and was accepted into the Buffalo Police Academy where he graduated and became an offer of the law. He continued his formal education at Howard University and State University of New York at Buffalo. While obtaining his bachelor's degree he returned to the Police force and eventually became Commander of the elite and revered SWAT. He is 34-year veteran of the Buffalo Police Department and currently assigned to Police Headquarters as Detective Sergeant Commander of Gun Violence Unit. Cedric is also an instructor of the ethics, firearms and defensive tactics.

Not only is Cedric a hero in his capacity as an officer of the law, he is a stanch advocate for the young mentees of the Omega Mentoring Program. Cedric is the Vice Basileus of his fraternity Omega Psi Phi, Phi Omega Chapter. The Omega Mentoring Program focuses on self-love, self-knowledge, self-development and spiritual development. The program has been acknowledged by Buffalo's news media and dignitaries as honorable and prolific. It is noteworthy to mention that 100% of the mentees who are active in the program graduate from high school and 90% go on to college.

Cedric's courage in the face of danger along with his tenacious disposition and love of life helped him to battle and survive diagnosis of lymphoma. While battling cancer Cedric never missed work, never stopped mentoring, never stopped parenting, never stopped working out, and Cedric never stopped believing he was going to live. Cedric is celebrating over 17 years of winning his aggressive battle against cancer.

Cedric was married in 2002 to his beautiful and supportive wife Mrs. Lisa Holloway. They are the joyful parents of Jimmie Adams and Morgan Holloway. Hearing Cedric speak of his children will make your heart warm. He is a man who understands the significance of fatherhood. The word "Daddy" is precious to his ears and possesses great meaning in his heart. Cedric is an amazing man who masterfully navigates through his dichotomous existence as protector and caregiver. He maintains his fierce demeanor as an unrelenting officer of the law, while maintaining his gentle and loving disposition as husband, father and community leader. Cedric has received numerous awards that give evidence of his love for his community. These awards include Buffalo Police Benevolent Society Officer of the Month (3/2010), Butler Award for Heroism by the Buffalo Police Benevolent Association (5/2011) and, the Stop the Violence Award (4/2012) Boy Scout Crew Leader Award (4/2013), CAO Professional of the Month (5/2013) President Barak Obama's Presidential Award of Merit (11/13) Law Enforcement Officer of the Year, Afro- American Police Association Trailblazers' Award, Omega Psi Phi Fraternity Inc. Phi Epsilon Chapter – Citizen of the Year, and Omega Psi Phi Fraternity Inc. Phi Omega Chapter (11/16), African American Police Association Community Service Award (2016) – Outstanding Service, Buffalo Evening News – Outstanding Citizen Award (3/17), Omega Psi Phi Manhood Award (4/2019), Mayor's Youth Award, 47th Annual Black Achiever Award(10/2019), Exemplifying Excellence through Sustainable Service Award (2/20).

Cedric is often heard saying, "It is said that a mentor is one who talks in someone else's sleep." And "You are the master of your fate, the captain of your soul." Mr. Cedric Holloway is an honorable man, husband, father, friend, protector, teacher, leader, humble servant and mentor extraordinaire!
Judith Sperry has served as the Development Director of the Police Athletic League of Buffalo, Inc. since she joined team PAL in April of 2017. She currently oversees a myriad of daily fundraising operations to include Grant writing, planning annual fundraising events, and performing outreach to Corporate Sponsors and donors who are invested in carrying out the Mission of PAL.

She has extensive experience fundraising for nonprofit organizations and is passionate about raising proceeds for PAL youth enrichment programs, as well as healthcare and the arts. She is a classically trained Violinist who holds a BA in English from Northwestern University where she studied music performance, creative writing, and American Literature.

She enjoys reciprocating her abundance of energy by working with PAL students on resume writing and career readiness, and strives to inspire community members to make a difference in the lives of children and young adults by becoming positive mentors in their lives.

Her favorite hobbies include hiking, biking, cooking, reading fiction, traveling, and visiting art galleries around the world. She also loves spending quality time with her family and friends.
***REGISTRATION COMING SOON!***
ARTS • SPORTS • ENRICHMENT • EDUCATIONAL • FIELD TRIPS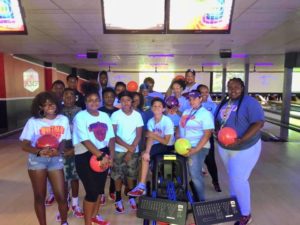 For: Students entering Grades 7, 8 and 9th for the 2021-2022 school year
6 weeks summer program 2021
Program Dates: July 5th – August 13th
Monday – Friday / TBA
Include: TBA
REGISTRATION FEE PER CHILD: FREE!
Buffalo Public School students & Buffalo Public Charter School Students
HOME LOCATION:
MACHNICA CENTER, 1799 Clinton St, Buffalo, NY 14206