When:
January 19, 2022 @ 4:30 pm – 6:30 pm
2022-01-19T16:30:00-05:00
2022-01-19T18:30:00-05:00
Where:
Hennepin Community Center
24 Ludington St
Buffalo
NY 14206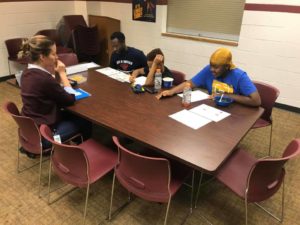 Overview
The STAR program is a partnership between Buffalo PAL and Literacy Buffalo Niagara. This program provides weekly enrichment activities that develop the behaviors of strong readers. Activities emphasize vocabulary building, fluency, and comprehension. The overall goal of the program is to get our youth reading for fun and to "Share the Act of Reading".

February—Semester Change Over
| | | | | | | |
| --- | --- | --- | --- | --- | --- | --- |
| Sunday | Monday | Tuesday | Wednesday | Thursday—Homework Help | Friday | Saturday |
| 30 | 31 | 1 Machnica4:30-6:30 | 2 Hennepin4:30-6:30 | 3 Machnica4:30-6:30 | 4 | 5 |
| 6 | 7 | 8 Machnica 4:30-6:30 | 9 Hennepin 4:30-6:30 | 10 Lincoln 4:30-6:30 | 11 | 12 |
| 13 | 14 | 15 No Programming | 16 No Programing | 17 No Programing | 18 | 19 |
| 20 | 21 | 22 No Programing: Mid-Winter Recess | 23 No Programing: Mid-Winter Recess | 24 No Programing: Mid-Winter Recess | 25 | 26 |
March—Semester 2
| | | | | | | |
| --- | --- | --- | --- | --- | --- | --- |
| Sunday | Monday | Tuesday—Homework Help | Wednesday | Thursday | Friday | Saturday |
| 27 | 28 | 1 Hennepin4:30-6:30 | 2 Rese 4:30-6:30 | 3 Lincoln 4:30-6:30 | 4 | 5 |
| 6 | 7 | 8 Rese 4:30-6:30 | 9 Rese4:30-6:30 | 10 Lincoln 4:30-6:30 | 11 | 12 |
| 13 | 14 | 15 Machnica4:30-6:30 | 16 Rese 4:30-6:30 | 17 Lincoln 4:30-6:30 | 18 | 19 |
| 20 | 21 | 22 Lincoln4:30-6:30 | 23 Rese 4:30-6:30 | 24 Lincoln 4:30-6:30 | 25 | 26 |
| 27 | 28 | 29 Hennepin4:30-6:30 | 30 Rese4:30-6:30 | 31 Lincoln 4:30-6:30 | 1 | 2 |