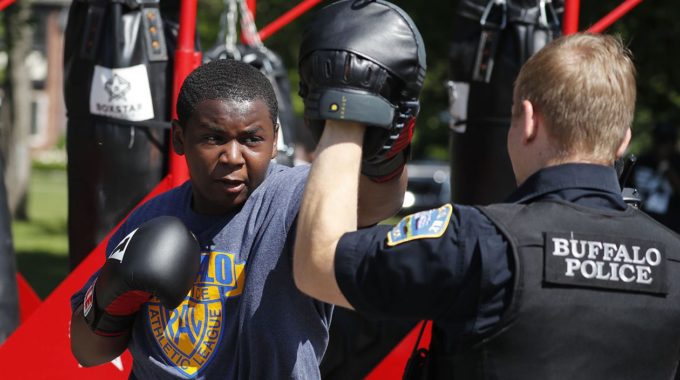 Buffalo Community Police Officer Ryan Urbanski does a boxing workout during a Police Athletic League event in Delaware Park in Buffalo on Sunday, June 23, 2019. (Mark Mulville/Buffalo News)
Buffalo's PAL in the park was a great success this past weekend! Here are a few highlights from the press:
This morning, Mayor Brown and the Buffalo Police Athletic League (PAL) hosted PAL in The Park. Loads of families showed up at Ring Road at Delaware Park to partake in an epic outdoor fitness bout. It was truly a great sight to see, as Buffalo police officers played a wide array of games with the kids – including tennis, golf, boxing, football, and basketball. Police officers were throwing the football around with the city's youth, which is a great way to build trust and confidence between the public and the police force. In a day and age when there is a widespread disconnect between the public and the police, these are the natural grassroots events that we need to see taking place throughout the city.
BUFFALO, N.Y. (WIVB) – Families were invited to join in on some summer fun at Delaware Park with the Buffalo Police Athletic League Saturday.

The "Pal in the Park" program offers educational and athletic programs for kids all summer long.

Kids get to play sports like golf, tennis and basketball.

They also have the chance to participate in Mayor Brown's summer reading challenge.
Skills and drills for several different sports were showcased, along with free healthy snacks and relay races.
Forty-five years ago, Tim Wagner played baseball in the Buffalo Police Athletic League.

Today, he's a city police officer.

He said his relationships with officers, forged at PAL events, helped him decide later on to become a police officer.

"Absolutely," Wagner said. "I saw two sides of the police officer, the community police officer as well as enforcing the law."

The connection between youths and police is what sets PAL apart from other youth sports organizations.