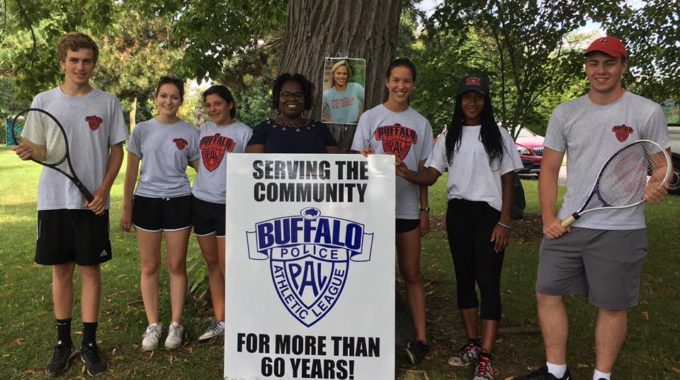 Beginner & Intermediate Clinic
Buffalo PAL invites you to come learn the basics of tennis, perfect for the first time or novice player. Fundamental skill stations in small group settings will provide readiness for game play.
Open to Boys and Girls 7 to 17 years old (no exceptions)
Two Locations!!
Delaware Park McMillan Courts:
Two Sessions per day:
Session 1 – 8:30 am – 10:00 am
Session 2 – 10:15 am – 11:45 am
$25 per week per session,
Scholarships Available
Days: Tuesday, Wednesday, Thursday
Dates:
July 11th, July 12th, July 13th
July 18th, July 19th, July 20th
July 25th, July 26th, July 27th
Aug 1st, Aug 2nd, Aug 3rd
Aug 8th, Aug 9th, Aug 10th
Aug 15th, Aug 16th, Aug 17th
Register Online Below OR Download Delaware Park Form
Riverside Park Courts:
$15 per week per session FREE for Boys & Girls Club of the Northtowns Town Club Members ONLY
Two Sessions per day:
Session 1 – 8:30 am – 10:00 am
Session 2 – 10:15 am – 11:45 am
Days: Monday and Friday
Dates:
July 10th, & July 14th
July 17th & July 21st
July 24th & July 28th
July 31st & Aug 4th
Aug 7th & Aug 11th
Aug 14th & Aug 18th
Register Online Below OR Download Riverside Park Form