IN CONJUNCTION WITH THE BUFFALO SUBARU CHASE
on Bidwell Parkway in The Elmwood Village
WHO: GIRLS & BOYS AGES 5-10
WHAT: KID'S DASH
WHERE: BIDWELL PARKWAY AND ELMWOOD AVENUE
WHEN: FRIDAY, JULY 14th @ 7:00 P.M.
WHY: BECAUSE IT IS FUN
Sorry! No child under the age of 5 will be able to participate.
Entries will be limited to the first 12 girls and boys in each age group.
All participants MUST wear sneakers.
All Participants Receive:
Free T- Shirt
Coupon for Ice Cream
Participation Ribbon Awards will be given to top 3 Girls and Boys finishers in each group
Ages 5-6: 30 yard dash
Ages 7-8: 40 yard dash
Ages 9-10: 50 yard dash
COMPLETE Registration & Client Characteristic Forms & Below OR
Fax to 851-4628 or Mail to:
PAL, 65 Niagara Sq., 21st Floor, Buffalo, NY 14202.
You may also register on day of the race by 6:30 pm, if space is available.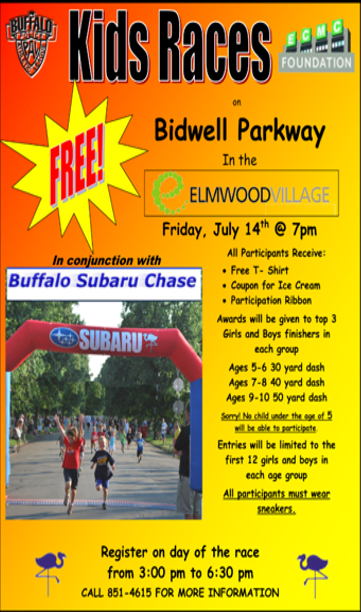 Client Characteristic Form
A completed form is required for each participant with each activity they register for. THIS INFORMATION FOR STATISTICAL PURPOSES ONLY.
Activity dates/times are subject to change. Please connect with Buffalo PAL on
Twitter
and
Facebook
for last minute updates schedule changes.